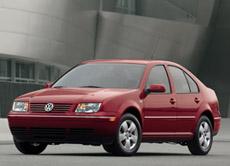 Volkswagen today announced a recall involving a defect in the brake light switch; the switch could either not function, or remain on at all times. In either case, that could send the wrong signal, literally, to other drivers. The recall involves more than 790,000 1999 – 2006 Golfs and GTIs, 2001 – 2005 Jettas, 2001 – 2007 New Beetles and 2004 R32s.
This recall comes after the same problem was discovered on other Jettas and New Beetles last year. That recall involved 362,000 vehicles. The sheer number – 1,150,000 – of cars involved in the two recalls is immense.
VW will begin the recall in April; owners can contact VW at (800) 822-8987.
[Volkswagen Recalls 790,000 Cars to Fix Brake Light Switch, The Detroit News]