The Urban DINK: Car Shopping List Update 2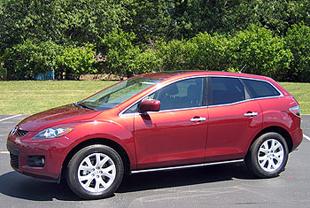 I have to apologize that there haven't been any recent DINK posts on actual DINK-ish cars lately. There just hasn't been much in the fleet that met the criteria. I did just file my review of the 2008 Mitsubishi Lancer, but I think anything under $20,000 kind of goes against the marketing definitions of what constitutes a DINK car. That review should be on the main page shortly.
As for the shopping update, things have changed quite a bit in the pecking order since last time. The wife and I actually went to a car dealer to test drive the Mazda CX-7. I know, talk about slumming it for an automotive journalist.
The thing is, my wife hated the CX-7. It's a fine car, mind you, but she didn't like sitting in it like a car when it was really an SUV. The windshield was too far away for her liking, and the hood drops off too steeply. I was a bit surprised at how rigid the ride was over rough roads. Still, my gut hurt a bit when we left the dealer and I knew I would never see the black-on-black CX-7 in our parking spot. Sigh.
What new vehicle in our fleet has taken the CX-7's place on our shopping list? Surprisingly, the Hyundai Santa Fe.
For all the reasons she didn't like the CX-7, my wife liked the Santa Fe. We drove it last night and she uttered the rare words, "I really like it." The Santa Fe has a very high sitting position, the dashboard isn't as deep as the CX-7's and, I must say, the ride isn't quite as rough.
As for me, I like the exterior look of the Santa Fe, but that center stack is hideous, as is the faux wood trim. Yet the rear seats fold flat with one button and lock into place. If we had backseat passengers, they'd also appreciate the extra A/C vents in the door pillar. I can't remember another SUV with them in such a location.
The cargo area is also huge. Where does this change of heart leave our list now? Take a look, but remember we have a hard cap of $30,000, and all-wheel-drive is a must. We'll start blogging on the entire buying process when the time comes this summer.
2007 Subaru Outback: Still waiting on a test drive with the wife in this, but the price might be right with incentives on an outgoing model.
2007 Hyundai Santa Fe: A surprise entry, but very near the top.
2008 Saturn Vue: Comes into our fleet next month. This is the last one we're waiting to test before going forward with the final decision.
2008 Ford Escape Hybrid: Can get out the door under $30K, and Courtney has already given a thumbs-up to the non-hybrid version.
2007 Mazda CX-7: The price is right, but Courtney didn't enjoy the latest test drive at all. She was uncomfortable driving it, and, yes, we had another blind spot encounter.
2007 Acura RDX: This would top the list if it weren't more than the magical $30K self-enforced ceiling. It could still win if we splurge a little.
2007 Ford Edge: After pricing and driving it, I just don't like it any better (and for more money) than the CX-7.
2007 Mitsubishi Outlander: Rear seats fold forward and interior materials are a bit cheap, but the price is right and it's fun to drive.
2007 Dodge Magnum R/T AWD: Too long — 16 inches longer than our Jeep Grand Cherokee — for the city.
2007 BMW 328xi wagon: Way over our $30K mark.
2007 Audi A4 Avant: Same problem as the BMW.
2007 Toyota RAV4: Courtney was uncomfortable driving it.
2007 Honda CR-V: Rear seats fold forward and need a latch, a pain and not dog-friendly.