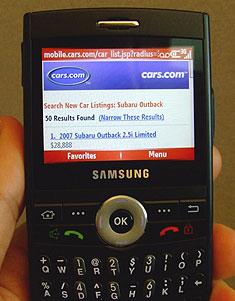 Today we're excited to announce that Cars.com has launched a mobile version of its website. It is designed specifically for web-capable mobile phones and PDAs. As of today, you can:
Search new and used car listings
Find dealers and locate them on a map
Calculate loan payments
View used Kelley Blue Book values
Get updated entries from our KickingTires blog
In the near future, you will also be able to access car reviews and more advice and research content from Cars.com.
Just imagine: You're out car shopping one weekend and decide you need to check out one more dealership than you'd planned. You'll be able to find and call that dealer from anywhere, or you can browse new or used inventory while shopping at a different location. And, of course, you can catch up on news from KickingTires, too.
Find out more here.