Miami Still Top Road-Rage City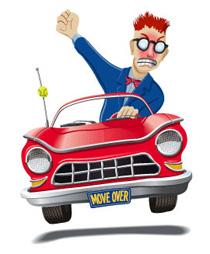 According to a survey by a national automotive club, Miami is the nation's leader in road rage. The survey included 25 major metropolitan cities and 2,521 interviews. Besides determining which cities have the most- and least-courteous drivers, the survey also found that road rage has no gender, with men and women ranking as equal offenders. Most people were offended by bad driving related to cell phone usage.
Miami was the top city in last year's survey, too. For a full list of the cities with the most and least road rage, click below. Feel free to let us know what gets your blood boiling.
Least Courteous Cities (Worst Road Rage) 2007
1. Miami
2. New York
3. Boston
4. Los Angeles
5. Washington, D.C
Most Courteous Cities (Least Road Rage) 2007
1. Portland, Ore.
2. Pittsburgh
3. Seattle/Tacoma
4. St. Louis
5. Dallas/Ft. Worth