Fast Cars & Superstars: Time Trials Update 3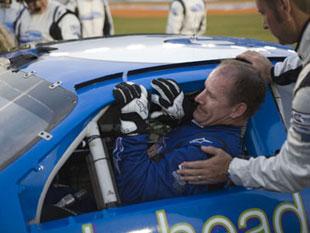 Well, they certainly saved the best for last in the time trials for "Fast Cars & Superstars: The Gillette Young Guns Race." Competing against Capt. Kirk (William Shatner) were pro volleyball player Gabrielle Reece and ex-NFL coach Bill Cowher. Reece and Cowher finally showed what the awesome power of a 600-hp car can do when the driver loses control for a moment.
Reece started the fireworks during her practice laps, when she lost control of the car, crossed the grassy area along the track, starting spinning and came to a stop just a couple feet from the wall. She seemed a little shaken, but it was Cowher who actually left some paint on the wall.
He was on his own practice lap when the Alltel car he was driving drifted up and caressed the wall. While he was able to keep going and bring it back to the starting line, the car was done for the day.
When it came time for the actual time trial, it was clear that Reece was nervous from her earlier spin. While her time was better than that of Serena Williams and John Salley, it seemed likely that given a few more practice laps, she would have regained her nerve. She finished with a time of just about two minutes, not a very difficult target for Shatner and Cowher.
Bill "Crash" Cowher certainly took advantage of her nerves, easily beating Reece's time and securing himself a spot in the next round -- and returning his car in the same shape it left in.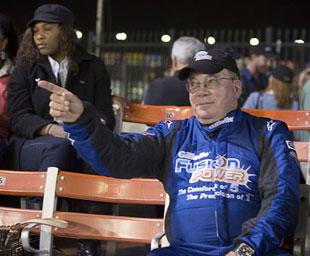 Cowher and Reece's crashes clearly seemed to weigh on Shatner's mind. His practice laps seemed timid, and when he hit the track for his time trials, he hugged the inside of the track. He hugged it so hard, in fact, that despite beating Reece's time by about a second, track officials disqualified him for crossing the white line that rings the inside of the track. Drivers who get too low on that line often find themselves propelled into one of the Lowe's Motor Speedway walls. Given that safety risk, Shatner got the boot despite having the second-best time.
Up next on Sunday night: The beginning of accuracy tests that will pit, in this group, Reece and Cowher against John Cena and Jewel; in the other group, Laird Hamilton, Ty Murray, John Elway and Tony Hawk will compete. Three celebs from each group move on into the finals, scheduled to air June 24 on ABC.
Fast Cars & Superstars Coverage on Cars.com
Fast Cars & Superstars Celebrity Profiles
John Salley
Laird Hamilton
Gabrielle Reece
Kasey Kahne
Serena Williams
Kurt Busch
Bill Cowher
John Cena
Tony Hawk
John Elway