Hyundai Tops New Quality List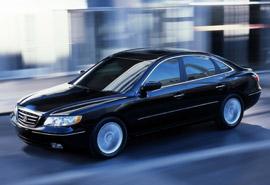 In a new 2007 Total Quality Survey by consulting firm Strategic Vision, three Hyundai models — the Azera, Santa Fe and Entourage — topped their respective segments for new-­vehicle quality. The survey polled more than 27,000 owners of 2007 models, from September to November of 2006. Not only were respondents asked about actual quality problems that required maintenance — dubbed Things Gone Wrong — they were also asked about perceived quality, or what they got for their money.
Toyota scored well in the Things-Gone-Wrong category but lost out on perceived quality. These are attributes that sway a buyer, the company says. We're a bit hesitant to back any survey of this kind, because many of the brands and vehicles mentioned here don't correspond with other reliability surveys, but with so many respondents, it's still worth publishing.
A full list of the segment winners and their total quality scores is below.
Segment
Winner(s)
TQI Score
Small Car
Honda Civic
882
Small Multi-Function
Volkswagen Rabbit
880
Medium Car
Saturn Aura
Nissan Maxima
892
891
Large Car
Hyundai Azera
901
Small Specialty Under $25,000
Mini Cooper
911
Near Luxury Car
BMW 3-Series Sedan
919
Luxury Car
Mercedes-Benz S-Class Sedan
938
Convertibles Under $30,000
Mini Cooper Convertible
905
Convertibles Over $30,000
Chevrolet Corvette Convertible
930
Minivan
Kia Sedona
Hyundai Entourage
Nissan Quest
866
866
865
Small SUV
Hyundai Santa Fe
885
Medium SUV
Kia Sorento
889
Medium Crossover
Dodge Magnum
882
Large SUV
Ford Expedition EL
918
Near Luxury SUV
Lexus RX 350
905
Luxury SUV
Mercedes-Benz ML
915
Standard Pick-Up
Honda Ridgeline
879
Full-Size Pickup
Nissan Titan
Ford F-150
876
875
Heavy Duty Pickup
Ford F-250/350
876