Ford Models Top New J.D. Power Quality List; Mercedes Radically Improves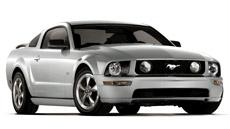 J.D. Power released its annual Initial Quality Study today, and it reveals some remarkable shifts in what buyers think of different brands after 90 days of ownership. We always point out that this study needs to be read in context — 90 days isn't a lot of time for something to go wrong, but the study also includes how happy buyers are with a vehicles interior and exterior design.
To us, the more important aspect is the problems per hundred vehicles. In that category, Mercedes-Benz improved roughly 20 percent and is now the fifth-ranked automaker in the study. Land Rover actually improved more but still ranks dead last on the list.
Ford brands topped the individual segment awards with the Ford Mustang, Lincoln Mark LT, Lincoln MKZ, Mazda MX-5 Miata and Mercury Milan. Toyota and Mercedes-Benz topped three segments each. For a full list of segment and brand winners, click below.
2007 Automotive Brand Rank
Problems Per 100 Vehicles
Porsche 91
Lexus 94
Lincoln 100
Honda 108
Mercedes-Benz 111
Jaguar 112
Toyota 112
Mercury 113
Infiniti 117
Ford 120
Scion 123
Hyundai 125
Kia 125
Industry Average 125
Buick 127
Chevrolet 129
Volvo 129
Acura 130
GMC 131
Nissan 132
Saturn 132
BMW 133
Pontiac 133
Saab 133
Subaru 133
Cadillac 135
Audi 136
Chrysler 151
Suzuki 153
Mitsubishi 155
Dodge 156
Volkswagen 160
Jeep 161
HUMMER 162
Mazda 163
Land Rover 170
NOTE: Not included due to small sample size are: Isuzu and MINI.
Top Three Models per Segment
Sub-Compact Car
Highest Ranked: Kia Rio/Rio5 Honda Fit
Hyundai Accent (Total)
Compact Car
Highest Ranked: Honda Civic (Total)
Toyota Corolla
Hyundai Elantra Sedan
Compact Sporty Car
Highest Ranked: Mazda MX-5 Miata
Scion tC
Subaru Impreza (Total)
Compact Premium Sporty Car
Highest Ranked: Porsche Boxster
Mercedes-Benz CLK-Class
Mercedes-Benz SLK-Class
Entry Premium Car
Highest Ranked: Lincoln MKZ
Acura TSX
Cadillac CTS
Midsize Premium Car
Highest Ranked: Mercedes-Benz E-Class (Total)
Lexus GS 350/GS 430/GS 450H (Total)
Infiniti M-Series (tie)
Volvo S80 (tie)
Large Premium Car
Highest Ranked: Audi A8 (tie), Mercedes Benz S-Class (tie)
Lexus LS 460
Premium Sporty Car
Highest Ranked: Mercedes-Benz SL-Class
Porsche 911 (Total)
Lexus SC 430
Midsize Sporty Car
Highest Ranked: Ford Mustang
Toyota Solara (Total)
Chevrolet Monte Carlo
Midsize Car
Highest Ranked: Mercury Milan
Honda Accord (Total)
Ford Fusion (tie)
Mitsubishi Galant (tie)
Large Car
Highest Ranked: Pontiac Grand Prix
Toyota Avalon
Ford Five Hundred (tie)
Mercury Montego (tie)
Compact MAV (Multi-Activity Vehicle)
Highest Ranked: Honda CR-V
Nissan Xterra
Hyundai Tucson
Midsize MAV
Highest Ranked: Toyota 4Runner
Toyota Highlander (Total)
Mercury Mountaineer
Large MAV
Highest Ranked: Toyota Sequoia
Chevrolet Suburban
GMC Yukon (Total)
Midsize Premium MAV
Highest Ranked: Lexus RX 350/RX 400h (Total)
Lincoln MKX
Lexus GX 470
Large Premium MAV
Highest Ranked: Lincoln Mark LT
Lincoln Navigator
HUMMER H2
Large Pickup
Highest Ranked: Chevrolet Silverado Classic HD
Ford F-150 LD
GMC Sierra LD
Midsize Pickup
Highest Ranked: Toyota Tacoma
Honda Ridgeline
Dodge Dakota
Van
Highest Ranked: Chevrolet Express (Total)
Kia Sedona
Ford E-Series