Reader Review of the Week: 2007 Dodge Magnum SRT8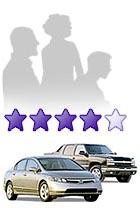 This week's winner of our award-less praise owns not one Dodge Magnum, but two. The author drives a 2007 Magnum SRT8, while his wife drives a Magnum R/T AWD. If you're that fanatical about a car model, you're going to win this week's nod hands down. So here's to Trotime from Newport, R.I.
"We have both the SRT8 and the R/T AWD Magnum. In my 30-plus years of being a 'car person,' I don't think I have found the equal in value, performance and street appeal. The SRT8 is a true American performance car, and the R/T AWD poses no problems in any weather. Sure, you can pick any car apart about the use of leather or 'the plastic look,' but after drag-racing as a hobby for over 10 years, I know cars, and if you want a true performer that will pull away from many cars two and three times the price of the SRT8, then check one out. It has been flawless since September 2006. We bought both within a month of each other.
"My wife drives the R/T and loves it, and so do the kids. It has plenty of room, a 5-star crash rating, power and looks that start conversations all the time -- from all age groups.
"Dodge has a winner with the Magnum and makes one for any level of performance and/or practical daily use.
"I am very confident that some of the surprised BMW, Corvette and 'others' have not gone in to work and told their buddies that a station wagon slapped them down.
"Best bang around for under $40K, and more."