Audi's Bang & Olufsen Sound System Reviewed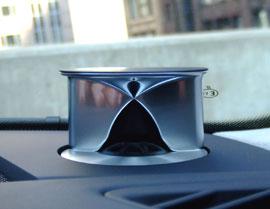 About a year ago, I was intrigued by images of Audi's upcoming Bang & Olufsen premium sound system for the A8 sedan. It looked terrific, but no car stereo system I'd ever tested had lived up to a $6,300 price tag. Then last week I got to test one out for myself in a black S8. Not only was it worth every cent, it was pure aural heaven.
The one thing you can't escape about the system, before you even hear it, is that it looks cool. How does a sound system impress with looks? The speaker covers are all real metal, and two directional tweeters literally rise out of the top of the dash when you turn the key. Talk about trick.
Here's what I listened to:
Nine Inch Nails, With Teeth: If you want to test out clarity and power in one CD, this is the one. The B&O system reproduced the diginoise Trent Reznor is famous for flawlessly, along with deep beats and raging guitars. There isn't a ton of low-range bass, it's just crisp and clear. I think Reznor should buy one of these S8s just to hear his own work on it.
My Morning Jacket, Okonokos: This is a live set from a band that styles itself largely after Neil Young. There are no digital effects here, just guitars, bass, keyboards, drums and vocals. The classic rock setup really brought the system to life with some warmth, and each instrument was perfectly clear. I had to go back to this disc and listen again just to make sure it was as good as I thought.
Queens of the Stone Age, Lullabies To Paralyze: This was the only disc that didn't sound better in the S8. I don't think the system is meant to play heavy metal or heavily amplified guitars. There wasn't much power behind the huge guitar riffs. Don't get me wrong, it still sounded good, but it's clear this system isn't for the heaviest of metal heads nor the fans of low-end bass.
There's a six-disc changer and an interface for an MP3 player, but I only tested out CDs. The Audi's multimedia interface controller is really one of the best on the market, with easy-to-navigate menus and buttons. If you can't see the large LCD screen in the middle of the dash because you're driving the S8 to the limits, a small screen in between the gauges also displays stereo information when you use the steering-wheel-mounted controls.
At the end of my drive I simply did not want to get out of the car. I wanted to make a dash to the record store, point the S8's nose toward Alaska, and mash the accelerator. Instead I had to go to work, completely envying those who can afford to buy one of these mobile music studios.