Nearly 300,000 Dodge, Jeep SUVs Recalled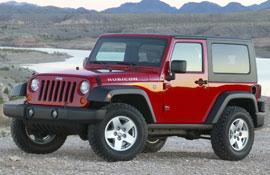 Chrysler announced today that it's recalling almost 300,000 SUVs from the 2006 and 2007 model years due to potential brake problems. This includes more than 156,000 2006 and 2007 Jeep Grand Cherokee and Commander SUVs, more than 90,000 2007 Jeep Wranglers and almost 50,000 2007 Dodge Nitro SUVs.
There have been 20 complaints about the SUVs' brakes, which suffer from a delay in braking while going uphill. Chrysler will reprogram the computer that controls the antilock braking system.
The company is also recalling more than 72,000 2008 Dodge Avenger sedans and Chrysler Sebring convertibles due to faulty front door latches and locks. There were no reported incidents from that recall.
Notices will be mailed out in coming weeks, but owners can call 800-853-1403 for more information.
Chrysler Recalls Nearly 300,000 SUVs to Fix Brake Problem (The Detroit News)