Ch-Ch-Changes: 2008 Mitsubishi Eclipse Gets SE Trim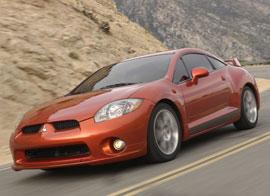 The reception for the redesigned Eclipse coupe was somewhat underwhelming when it hit the streets in 2006, but that isn't stopping Mitsubishi from releasing a special edition package for 2008 that adds a lot of options standard, as well as some flashy badging and a rather large spoiler.
As you can tell by the photo above and in the gallery below, the most noticeable change for the Eclipse SE — it comes in both four-cylinder and six-cylinder versions — is the large rear wing. There are also a number of options standard, including the 650-watt Rockford Fosgate sound system, leather seats and a power moonroof, which cost an additional $3,540 as an option package in the regular GS and GT models. The SE treatment isn't free, though, at a $3,800 premium over the GS and a $5,100 premium over the GT. The V-6 SE is also the only Eclipse available with an electronic stability system. The 2008s are on sale now. Full pricing and a photo gallery are below.
Description (Eng./Tran)
Suggested
Retail Price*
Eclipse GS SOHC 16 Valve I4 MIVEC (2.4L/5M)
$19,999.00
Eclipse GS SOHC 16 Valve I4 MIVEC (2.4L/4S)
$20,999.00
Eclipse SE SOHC 16 Valve I4 MIVEC (2.4L/5M)
$23,799.00
Eclipse SE SOHC 16 Valve I4 MIVEC (2.4L/4S)
$24,799.00
Eclipse GT SOHC 24 Valve V6 MIVEC (3.8L/6M)
$23,499.00
Eclipse GT SOHC 24 Valve V6 MIVEC (3.8L/5S)
$24,499.00
Eclipse SE-V6 SOHC 24 Valve V6 MIVEC (3.8L/6M)
$28,599.00
Eclipse SE-V6 SOHC 24 Valve V6 MIVEC (3.8L/5S)
$29,599.00
*Prices do not include $625 destination charge