Lexus Prices 2008 GS Line: 52 More HP for $245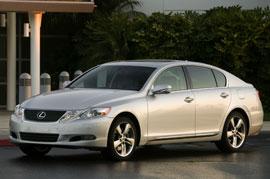 Lexus made some revisions to the GS model lineup for 2008, including changes to the exterior and interior. The GS 350 and GS 450h hybrid's prices remain unchanged at $44,150 and $54,900, respectively. The GS 430 has been replaced by the GS 460, which sports a new V-8 engine with 342 hp — 52 more than the outgoing GS 430. The price increase is a modest $245 to $52,620.
While we find the GS an underrated model when it comes to performance, it's also one of the few cars in Lexus's stable to score poorly in reliability ratings. Consumer Reports recently removed it from its list of recommended models and the AWD version scored especially poorly.
Related
Toyota Reliability Plummets in Consumer Reports Survey (KickingTires)