Full-Size Trucks Get Full-Size Discounts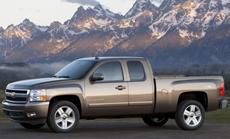 Trucks like the Chevy Silverado and GMC Sierra often hover near the top of Cars.com's Top 10 incentives list, thanks to reasonable prices and large cash-back bonuses. This month, though, the Silverado and Sierra are joined by a host of other trucks offering thousands of dollars in customer cash back.
Toyota is offering region-specific discounts on its popular Tundra model, and we've seen as much as $4,000 cash back on the 2007 Tundra and $1,500 on its 2008 brethren. (Search for Toyota's offers in your area here by entering your zip code under "Find Local Specials.") Nissan has joined the party, too, with up to $4,500 back — plus a $500 holiday bonus available until Dec. 3 — on the 2008 Titan. Mitsubishi's offering $4,500 cash back on the 2007 Raider; Dodge is offering $4,500 on the 2008 Ram; Ford is giving up to $2,500 on the 2007 Ranger, up to $4,500 on the 2007 F-150 and $2,000 on the 2008 F-150 and, well, you get the picture. If you're in the market for a truck, now is the time to seize that long-awaited discount. Who says you never get anything for Christmas?
Check out Cars.com's full list of incentives here.