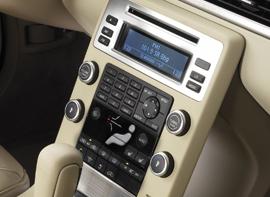 In manufacturers' constant arms race to include better perks for drivers, Volvo will make HD radio receivers standard in almost all of its models beginning in the second half of 2008.
Still in relative infancy, HD radio promises better sound quality than standard radio and offers vastly expanded programming. This includes access to news, weather, school closings and other emergency information right on the display screen.
Far from a monolithic set of stations with the same programming whether you're driving in Seattle, Kansas City or New York, HD radio varies geographically, offering different stations in different locations that will remind listeners of the quaint ways of old-fashioned AM/FM radio. Across the country, radio stations are making the switch to HD broadcasting. Nearly 2,000 stations either broadcast in HD or offer HD2 multicasts on the FM dial with no subscription fee.
While reception may be spotty in certain areas, that won't be so different from driving through west Texas trying to find a decent classic rock station.
Interestingly, there are a few exclusions in Volvo's list of models that will have HD radio. Not listed are the base S40 or V50, nor is the S60. That makes us wonder whether the S60 will be around in 2009.