Toyota Looks at Cars for the Elderly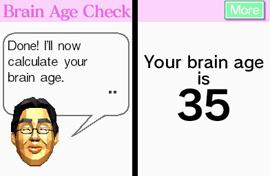 The developer of the popular "Brain Age" video games is going from working with one seminal Japanese company to another. Professor Ryuta Kawashima made Nintendo's DS portable video game system a must-have for the 55+ set. Now he's joining Toyota to work on a car that makes driving safer for seniors.
Some of the systems being developed would monitor driving patterns and then curb dangerous activity. The professor even foresees a car that could slow itself down if the driver inadvertently hits the gas pedal. The ultimate goal, according to Kawashima, is to "Develop cars that stimulate brain activity, so that driving itself becomes a form of brain training."
We can already see the professor's face beaming at us from a car LCD screen, asking if the sun is in our eyes.
Toyota and Brain-Game Professor to Develop Cars for the Elderly (International Herald Tribune)