2008 Challenger SRT8s Officially Sold Out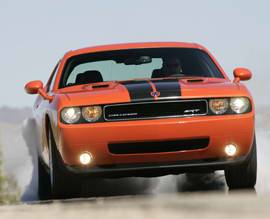 Chrysler says all 6,400 copies of its Dodge Challenger that will be built and sold for the 2008 model year have been spoken for: The return of the '70s muscle car is totally sold out.
Now that the 2008s have all been snarfed up, it's time to get in line to get your hands on a 2009 model, which will arrive this fall.
If you're dying for a 2008, though, and don't mind shopping on eBay, 28 of those 6,400 sold-out 2008 SRT8 Challengers just happen to have come out of hiding and are listed for sale — 24 of them by dealers — on the site.
The base price of a rare SRT8 is $37,995, which includes a $675 destination charge but doesn't include the only three options available: all-season radial tires for $100, a power sunroof for $950 and MyGig for $890. That price also doesn't include a gas-guzzler tax of $2,100; the Hemi V-8 gets only 13/18 mpg city/highway.
So that's a total of $42,710 before tax, title and license fees.
Of the 28 cars listed on eBay, most sellers are starting in the low-$40,000 range, while some start at $50,000.
A trio of listings state the car is yours for $60,000. One takes that up to $61,995, while the top asking price is $65,000.
Dodge spokeswoman Kathy Graham said the automaker has tried to pursuade its dealers not to demand a premium over the SRT8's list price.
The bids demanded on some cars on eBay, though, topped the full sticker price by between $20,000 and almost $25,000.
"Guess our persuasion didn't always work," Graham said.   
While only the SRT8 is being sold for the 2008 model year, a V-6-powered SE and 5.7-liter Hemi V-8 R/T will also be available this fall for the 2009 model year. Graham said that should help reduce the problem of supply and demand forcing prices higher than the sticker.