Ford: Turbochargers, Direct Injection to Raise Mileage Up to 20%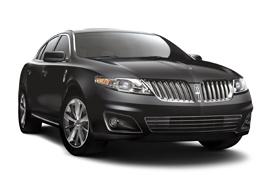 Ford announced today that direct fuel injection and turbocharging, which it brands EcoBoost, will increase gas mileage up to 20% on half a million of its vehicles within five years. The 2009 Lincoln MKS is the first production vehicle scheduled to get the technology, in the form of a twin-turbo V-6 that makes 340 hp. Ford says it will be the most powerful and fuel-efficient AWD luxury sedan out there, which means it should top the likes of Cadillac's V-8 STS AWD (14/21 city/highway) and Audi A6 4.2 Quattro (16/23).
Ford also outlined plans to build an EcoBoost four-cylinder, though spokesman Alan Hall wouldn't say if it will share the characteristics of the 2.0-liter turbo in the Explorer America concept that was revealed last weekend.
EcoBoost will also make an early debut in the Ford Flex and Taurus, Hall said. It's part of a "downsize and boost" strategy, by which Ford will basically offer similar power but better mileage thanks to the smaller turbo engine. Apply it down the line, and a Ford Fusion could have V-6-like power and 25 mpg in combined city/highway driving. A 2WD Expedition could get 17 mpg, while a 2WD Edge could get 23 mpg.
The technology and its benefits aren't new. Many automakers — most notably Volkswagen — have been turning out direct-injection turbos for years. Ford says what makes its system different (and, evidently, worth the whole branding effort) is how widespread it will be. Hall said customers would see it from "top to bottom" in the Ford, Lincoln and Mercury lineup — and, unlike some competing engines, it will run on regular, 87-octane fuel.