Pickup Logos: Mine's Bigger Than Yours
Welcome to the Battle of the Badges, an arms race among pickups to adopt a logo capable of obscuring everything between the lights and the bumper. You may think we're kidding, but Dodge announced at the Detroit auto show that the Ram-head logo on its namesake pickup is 250 percent larger than before. Asked if the badge had reached critical mass, designer Ralph Gilles chuckled: "It's about there."
Evidently, the competition knows no limits. Ford's redesigned F-150 comes with a blue oval decked out in three-dimensional chrome trim. GM's pickups sport titanic Chevy and GMC logos, and the Toyota Tundra and Nissan Titan badges don't lack for impact either.
Who wins? Ruler in hand, we hit the floor in Detroit to investigate. Some ground rules: We calculated total size in area — length times height — with measurements to the nearest quarter-inch. We counted whichever badge was biggest, whether it was on the grille or the tailgate. Only half-ton, hard-working pickups need apply, so no Ford F-450s or International MXTs here. On principle — many principles, actually — we also disqualified the Cadillac Escalade EXT and Lincoln Mark LT. (Dissenters, the point is moot: Both trucks were AWOL in Detroit.)
Let the badge-nauseam begin.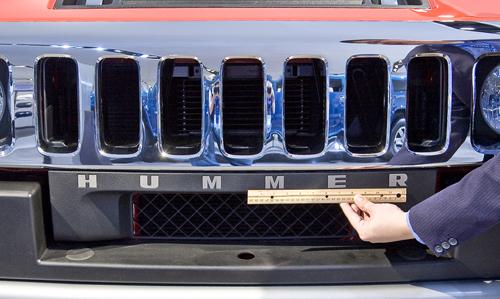 Eighth place: Hummer H2 SUT, 25 square inches
Does Hummer even have a logo? Not really. It's just H-U-M-M-E-R spelled out in block letters near the grille. We measured it anyway, and as we suspected, its 25-inch length is longest-in-show. Why does it lose? Because those letters are — cue sad, sappy music — just an inch tall.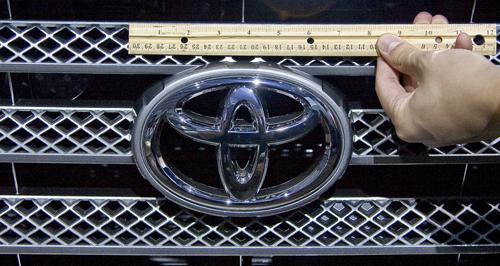 Seventh place: Toyota Tundra, 30.4 square inches
Front and center on the Tundra's grille is Toyota's hooped badge, measuring 6.75 inches long and 4.5 inches tall. It's larger than the logo on the Tacoma, but among full-size trucks, Toyota has some shrinkage to explain. There's no badge on the tailgate.
Sixth place: Ford F-150, 31.5 square inches
The 2009 F-150's massive grille slats make the logo appear dwarfish. Indeed, at 9 inches long and 3.5 inches tall, this blue oval gets no blue ribbon. With the optional backup camera, the rear logo protrudes a full 1.5 inches from the tailgate, though the logo itself is smaller than the one up front. We'll award points for originality, but that's where its prominence ends.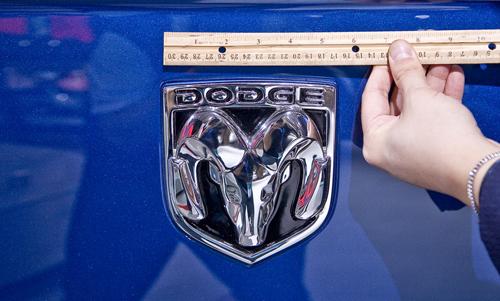 Fifth place: Dodge Ram, 33.1 square inches
As Dodge so proudly proclaimed, the chrome logo on the Ram's tailgate has expanded faster than our post-holiday waistlines. Now it comes in at a square 5.75 by 5.75 inches. In earlier years that might have won — and if this were a style contest, the smaller but carefully detailed front badge would earn our nod. (Impressive, no?) But this is a size contest, and unfortunately the Ram just can't cow(-tow) (sorry) its competition.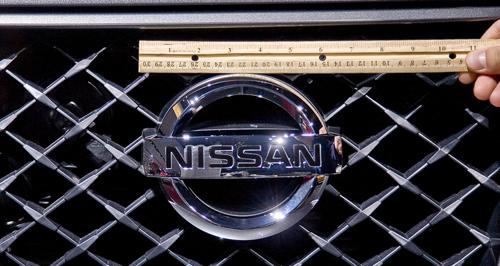 Fourth place: Nissan Titan, 35.8 square inches
The Titan's Nissan logo is biggest up front, where its sloped-back angle generates a bit more visual interest than the flat one in back. At 6.5 inches wide and 5.5 inches high, it earns Nissan a middling fourth place. Titanic it ain't.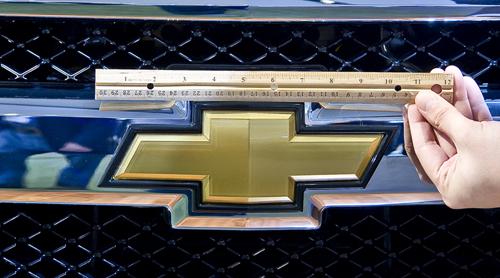 Second place (tie): Chevrolet Silverado, Avalanche, 38.4 square inches
Sure, GM stuffed the ballots — it builds half the pickups in the competition. Everyone else had a chance to unseat them, though, distasteful as the results might have looked. If we had to choose, the Avalanche beats the 'Rado by a hair, as its logo has a fancy two-tone, 3-D appearance. Either way, the Chevy bowtie is freakin' huge: At 10.25 inches, it's nearly twice the length of the Ram's, with 3.75 inches of height to boot.
Speaking of boot, our winner kicks everyone else off the table…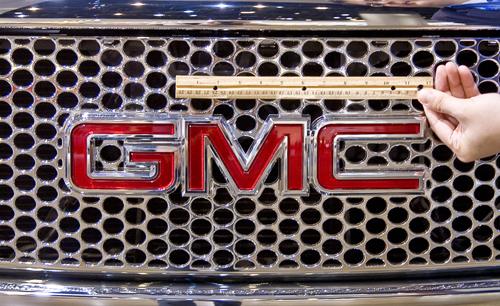 First place: GMC Sierra, 63.8 square inches
We know what you're thinking: This is a sham — GMC's logo is little more than its name spelled out in oversized letters! Fair point, but remember that the blue oval spells Ford, and countless other badges, from BMW to Saab, spell the names of their respective automakers. Heck, back when Toyota had its name plastered across pickup grilles we'd have awarded it the crown. There really is no contest here. The GMC logo on the grille of a Sierra Denali measured a staggering 17 inches by 3.75 inches. In total area, that beats the Tundra and F-150 logos combined. Case closed: In the contest of badge braggadocio, GM leaves its competitors in the dust.