Toyota's New Four-Cylinder Engine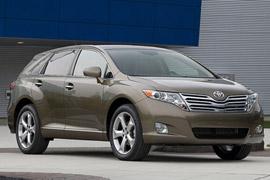 Buried deep in the Toyota Venza's press materials was news of a 2.7-liter four-cylinder engine Toyota calls "all-new." Toyota remained mum on details, but automotive forecaster CSM Worldwide puts the engine's output at 188 hp. Toyota spokesman Bill Kwong said Tuesday that because the Venza shares components with the Camry sedan and Highlander SUV, the engine would likely find its way into both vehicles down the road. Kwong wouldn't confirm CSM's numbers.
If the figures prove accurate, it would be a substantial gain over Toyota's existing 157-hp, 2.4-liter four-cylinder. Given the engine's size, we figure torque — the stuff you feel when pulling away from a stoplight — would increase similarly. That should prove handy in the Highlander, as the prospect of a 2.4-liter engine in an SUV that size doesn't bode well for highway passing. Presumably it would also yield better gas mileage than the Highlander's 18/24 mpg city/highway (2WD).
But what would it do to the Camry's mileage? Larger engines traditionally mean lower mileage, but Toyota promises "excellent fuel efficiency" with the engine when paired with a six-speed automatic in the Venza. (The Venza also has a V-6, but mileage figures for either engine have yet to be published.) The current four-cylinder Camry has a five-speed automatic and gets 21/31 mpg city/highway. If the larger engine can manage similar numbers and top the archrival Honda Accord for outright oomph — right now the four-cylinder Accord feels a bit gutsier — it could go a long way to boost the Camry's appeal.