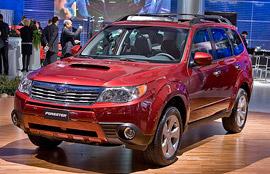 We first saw the all-new 2009 Subaru Forester last month at the Detroit auto show. Subaru has just released pricing for the new Forester, and the base model comes in $1,200 under the 2008 Forester's base price.
Starting at $19,995 — not including a $665 destination charge — the 2009 Forester is larger than the outgoing model and has ditched its station wagon appearance for a more traditional crossover SUV look.
There are additional standard features on the 2009, including side curtain airbags and an electronic stability system. Sticking around are all-wheel drive and the turbocharged XT model. The base 2.5X ($19,995) comes with a manual transmission, while an automatic 2.5X starts at $21,195. Low-emission versions with Partial Zero Emission Vehicle status add $200 across the lineup.
The new Forester is expected to show up at dealerships in April. Keep reading for a full pricing breakdown.
2009 Subaru Forester
2.5X manual: $19,995
2.5X automatic: $21,195
2.5X w/Premium Package (manual): $22,495
2.5X w/ Premium Package (automatic): $23,495
2.5X L.L.Bean Edition (automatic): $25,995
2.5XT automatic: $26,195
2.5XT Limited automatic: $28,195
Related:
2008 Detroit Auto Show: 2009 Subaru Forester (KickingTires)
Subaru Forester News (KickingTires)
2008 Detroit Auto Show Video: 2009 Subaru Forester (Cars.com)