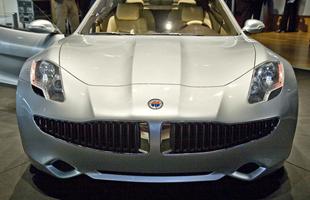 Porsche and Ferrari are household names even if the cars they build don't sit in many U.S. garages. The world of exclusive, high-end sports cars is poised to gain some less-familiar brand names, though, as Fisker, Yes! and Tesla plan new models for the U.S.
Because these cars are so unusual, they should appeal to a number of customers, but competition in the exotic sports car segment is already fierce and challengers face additional hurdles, like establishing a dealer network and building a brand reputation.
It's also far from a foregone conclusion that all three of these sports cars will make it to a road near you, as any number of factors could force their makers to abandon previously announced plans.
The most familiar of these newcomers is probably Tesla. Its electric-powered Roadster has been in the news for some time, and the car has impressive performance claims; the automaker says it can go from zero to 60 mph in less than 4 seconds; can travel up to 220 miles on a charge; hits a top speed of 125 mph; and can recharge in 3.5 hours. The base price for the allotment of 2008-model-year cars — all of which have already been reserved — is $98,000.
Automotive News reported in August 2007 that Tesla had delayed the introduction of the Roadster to late 2007. Currently, Tesla sales associate Joe Powers says production of the Roadster is scheduled to begin next month, and if you reserve a place in line now expect to wait about 18 months until your car is ready. Powers says Tesla showrooms in Los Angeles and San Francisco are being readied to open in April, with additional showrooms slated for Chicago, New York and Miami.
Like Tesla, Fisker has also chosen an alternative-fuel powertrain for its new sports car, the Karma. Shown for the first time at the 2008 Detroit auto show, the four-door Karma features a lithium-ion battery pack that powers an electric motor. Plugging the car into an outlet charges the battery, and there's also an onboard gas engine that performs the same function. Fisker says the car can travel on electric power for up to 50 miles at a time.
The low-slung rear-wheel-drive Karma should be able to go from zero to 60 mph in less than 6 seconds, according to the automaker, and Fisker says the starting price for the car will be $80,000 when it goes on sale late in 2009.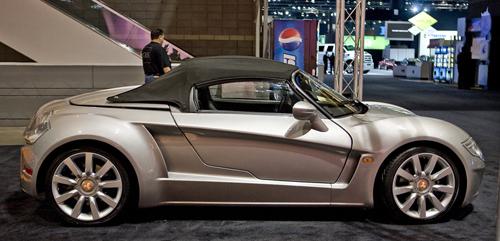 If you're looking for something a little different but want a regular internal-combustion engine, there's the new Yes! Roadster. Powered by a mid-mounted V-6 that makes 255 horsepower in the Roadster 3.2 and 355 hp in the Roadster 3.2 Turbo, the sports car promises performance rivaled by few cars, with a zero-to-60-mph time of 3.9 seconds for the turbocharged version, according to the company.
"The handling of the car is really unique," said Harald Nessuuitz of Yes! sales and marketing. "You just feel everything from the road." The normally aspirated version lists for $77,995 while the turbocharged model retails for $97,995.
Nessuuitz says the company is talking with six potential dealers in markets like Chicago and Los Angeles. Dealers will have a limited supply of Yes! Roadsters; Nessuuitz says the first models will be available in June, and the U.S. will receive just 50 cars in the first year.
As with more familiar exotic sports cars, the exclusivity afforded the buyer of one of these models is important. "There's enough car aficionados out there that want something different and unique," said Erich Merkle, vice president of forecasting at IRN Inc., a consulting firm based in Grand Rapids, Mich.
Related
Checking Out the Tesla Electric Roadster (KickingTires)
2008 Detroit Auto Show: Fisker Karma Concept (Cars.com)
More Yes! News (KickingTires)