Mini Cooper Wienermobile Cheesy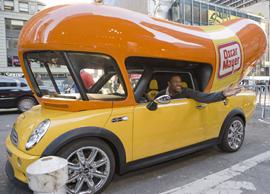 Last week, ABC featured a new Oscar Mayer Wienermobile based on a Mini Cooper S. The aptly named Mini Wienermobile swallowed NY Giant defensive end Michael Strahan for photo ops, sporting a license plate that read "LTL LINK." The Mini is a full 12 feet shorter than the full-size Wienermobile.
Since we're so used to seeing the full-scale version, this downsized version is rather irksome to look at. But in this world of high gas prices, we guess it's acceptable.
Seeing a Man About a Dog (NY Time Wheels Blog)