2008 New York Auto Show: 2009 Kia Optima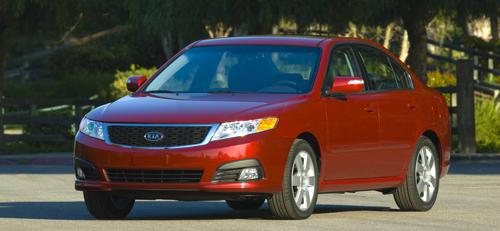 Competes with: Honda Accord, Toyota Camry
Looks like: Honda Accord, Toyota Camry
Drivetrain: 175-hp, 2.4-liter four-cylinder with five-speed manual or five-speed automatic, or 190-hp, 2.7-liter V-6 with five-speed automatic; front-wheel drive
Hits dealerships: Late 2008
Not two months after sister company Hyundai debuted a freshened Sonata, Kia followed suit with the midsize Optima. Though the cars shared architecture in previous years, they've been on divergent paths for some time now, Kia says. Where the upgraded Sonata's new face found general acceptance, our reaction to the Optima is lukewarm. The car's sheet metal went from Plane Jane to Frank Caliendo, meaning you can find a good impression of a lot of cars here: the grille and taillights look like those on the new and two-generations-old Accord, respectively; the headlights are all Camry; and the trunk and rear bumper remind us of the Malibu.

Both engines have been upgraded, but the cabin remains mostly the same, save for some cooler electroluminescent gauges in the sporty SX trim level. ("Sporty" is a relative term here, as in, whoa, check out that sporty Camry SE!) Other SX features include 17-inch rims, a sport-tuned suspension and mirrors with integrated turn signals. The LX and EX trims remain, and new standard features include a USB port, which takes iPod compatibility beyond what simpler auxiliary jacks allow. Six airbags and active head restraints are also standard, but we wish ABS and stability control were, too. They're optional, but product strategy manager Ralph Tjoa said that may change before the car arrives at dealerships.

Click below for more pictures.