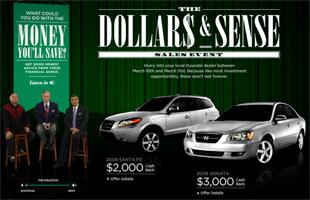 It's a tough economy. Things are scary out there, and it makes us not want to go outside too often. Don't want to get caught in a "run" on the "bank," whatever those things are.
Fortunately, Hyundai's here to help, and not just by telling us where to spend our money. Of course it wants you to buy a 2008 Sonata, and is offering $3,000 cash back as encouragement to do so, but it's also offering snippets of financial advice in its ads — the best ways to save that leftover incentive cash. Now that's marketing. Beware, though: The '08 Sonata differs from the updated 2009 version, which debuted at the Chicago Auto Show this year and features some significant upgrades. Make sure to check out a comparison of the two models here, and read our coverage of the 2009 here. The 2009 is currently being offered with $1,000 cash back.
If the Sonata doesn't tickle Hyundai buyers' interest, the manufacturer is also giving $2,000 back on the Santa Fe and Azera, and between $1,000 and $1,500 on the rest of its inventory including $1,000 off the 2008 Veracruz crossover. All deals expire April 30.
All Manufacturer Incentives (Cars.com)
More Hyundai Sonata News (KickingTires)