2009 Hyundai Sonata Gets $1,500 Incentive In Many Regions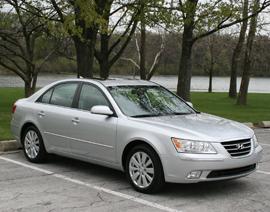 The 2008 Hyundai Sonata was one of Cars.com's Best Bets last year, and the 2009 Sonata improved on that foundation with solid updates this year. It got an updated, roomier cabin, more-powerful and efficient engines, and creature comforts like an optional navigation system and a standard USB port for MP3 players.
Buyers looking for a deal on the new Sonata can find it in Cars.com's new regional incentives tool. While the advertised "national" incentive is $1,000, Hyundai is offering $1,500 cash back in major regions across the country: A glance at Cars.com's listings shows $1,500 cash back in the Northeast, the Midwest, the South and the Northwest, as well as in California, Texas and Denver. Input your zip code to see if the offer is available in your area.
That cash back is complemented by other bonus incentives, including $500 for loyal Hyundai buyers. The incentives expire June 2.