Honda Owners Force Free Transmission Fix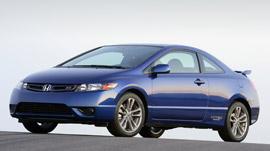 Ah, the power of peaceful protest.
Honda and Acura owners recently saw their hard work pay off when Honda issued a technical service bulletin for the vehicle. The issue? Owners of certain vehicles claimed the car had a transmission problem involving the third gear randomly popping into neutral and grinding incessantly.
Previously, Honda claimed to know nothing of the problem and refused to issue a recall. A TSB is short of a recall, but owners can still get the problem fixed free of charge by bringing their vehicle into a dealership. You can see the TSB for the Honda Civic and Accord here, and the TSB for the Acura here. For a full list of models affected, go to the jump.
2003-07 Honda Accord V-6 with M/T
2008 Accord V-6 coupe with M/T
2006-08 Civic Si coupe
2007-08 Civic Si sedan
2003 Acura 3.2CL with M/T
2002-06 Acura RSX with six-speed
2004-08 Acura TL with M/T
Protesting Honda Civic SI Get Transmission TSB (The Consumerist)