2009 Dodge Challenger Starting Under $22,000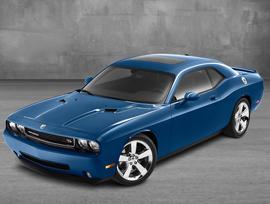 Dodge's entry-level version of its new Challenger muscle car — the SE — will start at $21,320 (not including the $675 destination charge) when it goes on sale this fall. The 2008 version, which only came in the high-powered SRT8 trim level, is pretty much sold out, and it hasn't even reached most dealerships yet. For 2009, there are three trim levels, all priced below.
2009 Dodge Challenger SE: $21,320
With a 250-hp V-6, this is the model that will get you looks without high dealer markups or dismal fuel economy. It's rated at 18/25 mpg city/highway. The 2008 Ford Mustang has a 210-hp V-6 and gets 17/26 mpg, but it starts at $19,650. We'll see if the SE will steal some of the Mustang's thunder in the base trim. Chrysler expects to sell a majority of Challengers in the SE trim.

2009 Dodge Challenger R/T: $29,320
Move up to the Hemi version of the Challenger, with its 370 hp and 398 pounds-feet of torque, and you'll pay for it, both in the sticker price and at the pump. Chrysler hasn't unveiled fuel economy figures yet, but we'd expect them to be close to those for the Hemis in 2008 R/T Chargers — 18/23 mpg — despite the 20 extra hp. The big news, of course, is that this is the first time buyers can get the new version of the Hemi teamed with a manual transmission, here a six-speed. This looks to take the crown as the most power you can get for under $30,000.

2009 Dodge Challenger SRT8: $39,320
If you have patience and don't want to put up with high dealer markups, put in an order for a 2009 Challenger SRT8. Sure, you might not be the first guy in your city to have one, but you'll save some cash and have the option of getting a manual transmission, which isn't offered on the 2008s. The manual even comes with a pistol-grip shifter. It has the 6.1-liter version of the Hemi with 425 hp, and we are all big fans of the 2008's performance capabilities. You can also get the SRT8 in two more colors. Besides the orange, black and silver choices for 2008, you'll get to pick from red and blue, too. You'll be able to flaunt your lack of concern for sky-high gas prices in style.