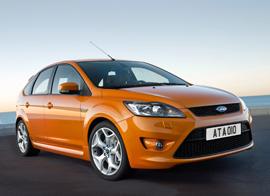 Today Ford announced one other nugget besides the fact that it would delay the 2009 F-150 pickup. The well-received European Focus will finally come to the U.S., with the next generation being produced and sold in North America. This is part of Ford's new goal of shrinking its lineup to more fuel-efficient vehicles. The company already announced it will sell the subcompact Fiesta in 2010.
Many American car enthusiasts have pleaded for the European Focus for years. It seems to have taken a financial crisis to bring it stateside. Make no mistake, this is a money-saving move for Ford. Instead of investing in two different Focus designs for two different markets, it will save money on R&D by going with just one. By building the Focus domestically, the company also protects against a weak dollar versus importing cars built abroad.
This is a good move for Ford. With the recently redesigned U.S. Focus selling extremely well because of high gas prices, the Focus name will be high in the minds of consumers by the time the next generation arrives in two years. We'd also guess that with the lower-cost option of the Fiesta on lots at the same time, the company can afford to bring a slightly more expensive, better-quality Focus to market. Let us know what you think of this move in the comments below.