Hyundai Elantra Tops Reliability Report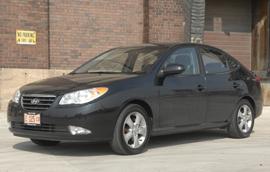 The Hyundai Elantra has earned Consumer Reports' "excellent" rating in predicted reliability among small, high-mileage cars road-tested by the magazine.
It beat out the Honda Civic EX for the top spot, also finishing ahead of the Toyota Prius, Mazda3, Subaru Impreza, Toyota Corolla and Ford Focus, all of which achieved "very good" ratings in a report on the potential reliability of small gas-saving sedans.
All but the Corolla earned "recommended" ratings. CR said it didn't have enough reliability feedback on the new '09 Corolla to give it a "recommended" rating yet.
"The Elantra's top rating in the small-sedans class shows how far Hyundai has come in the last decade," CR said of the findings in its July issue, which goes on sale Wednesday. "Its cars used to be unreliable and unrefined, with low scores in tests. Now, some compete with the best in their classes."
CR called the Elantra SE "a well-rounded package with a quiet, roomy cabin, comfortable ride, nice fit, excellent braking and very secure emergency handling aided by the standard electronic stability control."
Related
More Hyundai Elantra News