Recall Alert: VW's New 2009 Tiguan, 2008 Passat Wagons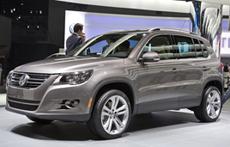 Volkswagen has had reliability issues in the past, which is why when a new model hits dealerships it should probably be free of defects early on, or potential buyers may look for the nearest Honda dealership. That seems to be the immediate reality surrounding VW's new Tiguan compact SUV. Yesterday, VW issued a recall of the Engine Control Module, which could cause an engine surge when the A/C is on. The same problem applies to 2008 Passat wagons.
VW says there is no problem as long as the A/C isn't on. Owners driving around in the middle of summer may disagree. VW is acting appropriately and is inspecting and replacing damaged units. Owners are urged to bring them into a dealer immediately. To make up for the inconvenience, VW is throwing in a complimentary car wash and fill-up of gas if owners schedule their inspection by Aug. 30.
There is also a hold on Tiguan and Passat sales until all the modules are inspected. The all-new SUV is just reaching dealers now, and you can find them in Cars.com's new-car inventory. VW says only 4,000 models are either on the lots or on the road. Shoppers should still be able to purchase a new Tiguan or Passat from a dealer that has inspected the part, just make sure to ask first.
It sounds like the company really wants to make the problem go away quickly so it won't stain the Tiguan's release.
Volkswagen recalling 2008 Passat and 2009 Tiguan (MotorTrend)