Suzuki Bows Out of Detroit Auto Show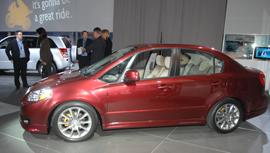 Suzuki is the second automaker to pull out of next year's Detroit auto show in January. The company says there isn't enough space in Cobo Hall to meet its needs. Porsche didn't show up at last year's show, but didn't cite space concerns. It said Detroit wasn't a market it needed to be in.
Even though Suzuki is a relatively small player in the automotive industry, this is still a sign that Detroit is no longer the "must-see" car show in the country. Recently New York, Los Angeles and Chicago have grown in size and importance. With the web greatly expanding media coverage, a single splash in Detroit to draw global news organizations is no longer the name of the game.
What do you think? Does it matter to you if Detroit is no longer the premier auto show on the circuit, or are you following all four of the big shows equally?
Suzuki to skip auto show (Detroit News)