2009 Subaru Forester Tops Consumer Reports List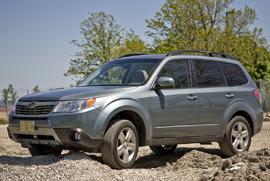 Consumer Reports recently reviewed a number of small SUVS, and the overall winner was none other than the all-new Subaru Forester, which we recently reviewed here. The Forester impressed CR so much it unseated the Toyota RAV4 as the magazine's top-rated compact SUV by earning a slightly higher road-test score.
CR also tested the Nissan Rogue and Mitsubishi Outlander this time out. The company had previously tested the RAV4 and Honda CR-V, which ranked sixth among compact SUVs. While the Rogue scored well, it wasn't "recommended" by CR. To get the recommendation, a car must either score above-average in reliability or have predicted high reliability. The Rogue is an all-new model and thus has no reliability figure.
In the case of the Mitsubishi Outlander, CR says it has shown outstanding reliability in its first year since its redesign. Because of a long history of solid reliability, the new Forester is predicted to also have above-average reliability and thus earns the "recommended" nod.
We always thought the Outlander was a sporty and affordable compact SUV, but worried about issues like reliability. Hearing such positive findings by CR definitely boosts its standing in the field.
Subaru Forester leaps ahead (ConsumerReports)