Mishawaka: Awaiting Word of Hummer's Fate
By Eamonn Brennan
Cars.com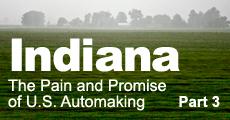 Large and foreboding, the Hummer H2 casts a long shadow over the road — a huge, rumbling symbol of America's gas-guzzling history.
That same shadow hangs over Mishawaka, where employees have been building the hulking vehicle since late 2001. A few years ago, the plant couldn't build H2s fast enough, but now with gas prices higher than ever, demand for large vehicles dwindling and Hummer sales in the tank, GM is talking about selling off the brand. Just yesterday, GM announced it would scale back production of H2s at the plant by one-third. GM spokesman Tony Sapienza said the company was confident AM General wouldn't be forced to lay off any employees, but the people of Mishawaka are uncertain about the fate of the plant's workers.
"It's frightening," said Phil Damico, chairman of business development at the South Bend Chamber of Commerce. "That we could have a number of employees out looking for jobs — it would be a huge deal."
"The overall community could really be affected," said Ed McNamara, owner of City-Wide Liquors, which has operated for 17 years on Bittersweet Road, just blocks away from the AM General plant where Hummer builds its SUVs. "That's a lot of money being pulled out of the community."
An Uncertain Future
In the 1990s, before he became governor of California, movie star Arnold Schwarzenegger purchased two custom-built Humvee trucks, vehicles previously used solely by the military. In something of a seminal moment, the actor helped persuade AM General to build a street-legal Humvee, known as the H1. GM bought the Hummer brand in 1999 and, with AM General, developed the H2 for the 2003 model year.
After the H2's release, Hummer blossomed. The model, like Cadillac's Escalade, became a ubiquitous symbol of luxury and excess in a time before gas prices made large SUVs Public Enemy No. 1. Hummer dealerships sprang up like outlet malls — few in quantity but hard to miss — serving customers in search of an all-American status symbol.
Times have changed. In 2005, Hummer added the H3, a more conventional SUV with a decidedly less military look that was better suited for suburbanites. By then, though, H2 sales had already started to fall: Its sales were at 23,213 in 2005, dropped to 17,107 in 2006, and dropped again to 12,431 in 2007. H3 sales have helped keep Hummer, well, humming, but the H2 continues to see sales tumble, falling to just 3,753 through June of this year — well below last year's pace.
That steep decrease in overall Hummer sales — off 53.6 percent through June of this year compared to that point in 2007 — has GM on the verge of ditching the recently iconic nameplate.
At an annual GM meeting in June, chairman and CEO Rick Wagoner said the company would consider "all options" for the brand, including an outright sale. GM spokesman Nick Richards said GM plans to continue producing the H2 for the "foreseeable future" and that the company hasn't "committed to a set timeline publicly" to sell the brand.
Both practically and ideologically, Hummer's era may well be over. Gas prices have made large SUVs and trucks prohibitively expensive for many consumers, while growing environmental awareness is making large, in-your-face gas-guzzlers less popular than ever.
"I don't see it coming back," Damico said. "I mean, do you see the price of gas going down?"
Options
Fortunately for Mishawaka's Hummer workers, sale of the brand might not mean a complete loss of jobs. Because the current plant is owned by AM General — which builds the military-grade Humvees widely deployed by the U.S. military — the loss of commercial Hummer jobs could be absorbed into the military side, according to AM General spokesman Craig MacNab.
What's more, AM General is in talks with a variety of suitors to add production to its Mishawaka plant, like upgrading taxicabs for large companies in major U.S. cities.
"They're the top guy being considered," Damico said of the cab deal, which hasn't been finalized. MacNab wouldn't name any of the plant's potential deals, but said there are numerous options in the works.
"What I can say is that we've never viewed the Hummer business in that plant as the only thing we're ever going to do," MacNab said. "We've been consistently pursuing other opportunities to do other things. It's just a matter of addition."
In the face of a shaky future, that puts some local residents at ease.
"I'm not sure there's a lot of people that realize the impact of the commercial side — everybody gauges it on the military side," McNamara said. "Most of what you hear in town is about the military side. The big majority of people on the commercial side will think they've always got a job anyway because they can go back to the military side."
That's little solace to Hummer employees in Mishawaka, like Carmel Hollars. A 12-year veteran of the plant's military side, Hollars said that regardless of where job cuts are made, those with less seniority might still be laid off. For workers without the right skills to begin working someplace nearby — such as an area hospital or the University of Notre Dame, the county's largest employer — that's a frightening prospect.
"There really aren't too many other options in Mishawaka," Hollars said about local manufacturing jobs. "I don't know of anyone who's ever walked in and quit their job here. There's nowhere else to go."

Worries
The town of Mishawaka is fortunate. It borders South Bend, an old manufacturing town that has lost some of its luster but is home to Notre Dame. Unlike the smaller towns far to its south that have welcomed foreign automakers, the fate of Mishawaka isn't tied to just one employer. If Hummer closes, blue-collar workers may lose their jobs, but they won't lose Mishawaka.
Still, the potential for shutdown looms. At City-Wide Liquors, as McNamara speaks to a reporter, people mill in and out, buying liquor and soda, talking in hushed tones about a recent RV plant shutdown in nearby Elkhart. It's not Hummer, but the situation worries them all the same.
"Did you hear about the layoffs?" a customer asks. "1,400 people."
"We don't need that," McNamara's wife responds from behind the counter.
"No," the customer says. "We don't."
Indiana: The Pain and Promise of U.S. Automaking Part 1
Indiana: The Pain and Promise of U.S. Automaking Part 2
---
Mishawaka, Indiana in Pictures