Greensburg: Honda Plant Promises Jobs, But Not for All
By Eamonn Brennan
Cars.com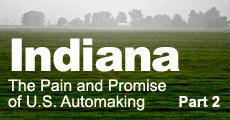 Greensburg sits quietly off Interstate 74 in eastern Indiana, halfway between Indianapolis and Cincinnati, and has just one distinguishing feature: a small, oddly persistent tree that's been growing out of the top of its scenic courthouse building since 1870.
"Before Honda came here, that tree was the most notable thing about our town," said Neil Cortus, an office manager at Sweet's Auto Repair in Greensburg.
That's about to change.
Two years ago, Honda announced it would build its popular Civic sedan in Greensburg at a plant that would, like the descent of other foreign automotive plants into Indiana, provide jobs and foster growth in the sleepy town. Some residents are eager for the boom to arrive; Honda says the plant will open in the next few months. Others wouldn't mind waiting a while longer.
"There have been mixed feelings," Cortus said. "Overall, people are excited because of the money it's likely to bring, but some worry that the small-town feel we have here is going to get lost in the trade."

Economic Boom
For all the concern, there's little doubt that Honda's arrival will bring a new economic engine to Greensburg and Decatur County. Honda promises to bring 2,000 manufacturing jobs to the town, and if Toyota's decade-old investment across the state in Princeton, Gibson County, is any indication, Decatur County residents will experience a jump in salaries, too. The average salary for Gibson County residents hit $42,091 in 2004, about six years after Toyota opened its Princeton plant. That's an increase of 66 percent from the $25,410 average in 1994, according to the Indiana Business Research Center.
Greensburg is also likely to see a rise in population and increased tax revenue for development, officials say. Mayor Gary Herbert said he expects an influx of about 1,000 people, largely former commuters who will want to relocate thanks to the high price of gas. That projection has already spurred new housing in town; not far from the plant on the west side of Greensburg, rows of new suburban houses with green yards line freshly paved streets. More are likely to come, Herbert said.
Like other Honda sites before it, Greensburg is also likely to benefit from Honda's corporate philanthropic efforts. Already, Herbert said, Honda has donated enough money to cover the salaries for three firefighters who are needed at the plant.
But Greensburg's other changes are happening more slowly.
"We don't want to move too fast," Herbert said. "We've got a lot of good problems to have, and we want to grow at a controlled rate."
It's the idea of prosperous growth that has Greensburg residents excited. So excited, in fact, that when word first leaked in 2006 that Honda was considering the town for its plant, 300 of its residents donned red shirts and formed Honda's trademark red "H" on the courthouse steps. They took an aerial photo and emailed it to Honda headquarters in Japan.
"That was a sign that people were really friendly," Honda spokesman Ed Miller said.

Seeds of Doubts
Not everyone in "Tree City" was on those courthouse steps in 2006, and not everyone in the town is pining for growth.
"It's ruining our hometown," said Wallpe's Keg bartender Patty Pleak, who has lived in Greensburg for all of her 49 years. She said she's now considering moving, thanks to Honda. "It just seems like we're losing that small-town feel. I think more people have moved here, and I see more people in the bars. I loved this town, and it makes me want to leave."
Cortus said others share Pleak's concerns.
"I think we knew going into this that there would be good things and bad things," Cortus said.
One concern is the number of jobs that Greensburg residents will be able to fill. Honda has officially opened its hiring to residents within 90 miles of the plant, an area that includes parts of the Indianapolis metro area and several other counties. Herbert said he hopes half of the 2,000 Honda jobs will be filled by Decatur County residents, and is pushing Honda toward hiring recently laid-off local manufacturing employees first.
Cortus is also concerned about overdevelopment and how much philanthropy Honda has a stomach for, but said he realizes it's too early in the process to malign Honda for either.
"I could be this real hometown guy and sit here and say they haven't done enough for us yet," he said. "But the truth is, you've got to start making a buck before you start giving it away."
Two Feet In
Even with doubters in town, it's clear that many residents are excited about Greensburg's future.
"I just want to have stuff in our town," said Cindy Pinsom, manager of Macabo's bar. "Stores, restaurants — we need those things. Right now our nicest restaurant is Chili's."
There's no question that Greensburg is about to branch out — whether it will remain the Tree City is the question.
"The small-town feel, that's not Honda," Herbert said. "That's in us. That's in your people."
Indiana: The Pain and Promise of U.S. Automaking Part 1
Indiana: The Pain and Promise of U.S. Automaking Part 3
---
Greensburg, Indiana in Pictures