What Lincoln and Mercury Will Look Like in 2010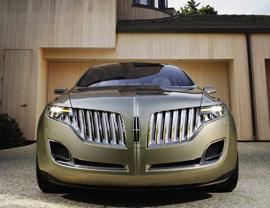 Earlier we took a peek at what Ford's future lineup is expected to look like after today's announcement about integrating European models into the U.S. sales channel. Ford also announced that it would stand behind its Lincoln and Mercury brands. There had been rumors that at least Mercury might meet its maker thanks to Ford's tough economic times, but now it's slated to get a unique small car in 2010. Below is our look at what the two companies will field in the near future.
Mercury
New Small Car, 2010
Ford didn't say what small car it would give Mercury, but did say it would be built on one of its existing platforms and that it would come from Europe. Our best guess — and suggestion — would be for Ford to rebadge the European Ford Focus Cabriolet convertible as a Mercury. The brand is already female-centric, and an attractive, affordable, efficient convertible could do very well as a unique vehicle for the brand.
2010 Mercury Milan, Milan Hybrid (2008 shown above)
Like the Ford Fusion, the Mercury Milan will get a mild redesign for 2010 along with a more efficient four-cylinder engine. A hybrid version will be offered for the first time, borrowing the same technology used in the Ford Escape Hybrid.
2009 Mercury Mariner, Mariner Hybrid
There was no mention of dropping the Mariner, and we'd expect it to continue at least through 2010.
There was absolutely no mention of a 2009 model year for the Mountaineer or Sable. We're fairly positive there will be a 2009 Mountaineer, but can't say the same for the Sable, as Ford mysteriously did not mention it when talking about the new Taurus, with which it shares most of its components.
---
Lincoln
Unnamed Seven-Seat Crossover, 2010
Ford says a new seven-seat crossover will debut in calendar year 2009 for Lincoln. We previously reported that it would be a production version of the MKT (shown above), but recently there had been rumors that it had been shelved. Today, Ford confirmed it will indeed go into production, with a new EcoBoost turbo V-6 engine. It should compete with the Buick Enclave in terms of near-luxury crossovers, and it looks remarkably different than Ford's Flex.
2009 Lincoln MKS
The new, large sedan is an impressive entry for Lincoln. It has style and a lot of interior room, along with a very well-executed navigation and entertainment system. It also comes with available all-wheel drive. A huge advertising push is swirling around this car, and Lincoln hopes it will bring people into the showroom. We're not sure if it's the exact right car at the right time, but it sure beats any sedan Buick is selling right now.
2010 Lincoln MKZ (2009 shown above)
Lincoln's entry-level sedan will get a mild redesign, like its siblings the Ford Fusion and Mercury Milan. It will not get a hybrid option, however. It appears it won't get a four-cylinder version, either.
There was no word on how long the Navigator will continue, but we'd assume the large, recently refreshed SUV will make it to 2009 at least with few changes. Ford might need a year to figure out how many buyers of these types of vehicles take advantage of their full capability. There are still people who tow fancy things, like boats and horse trailers, and don't want to be seen in a Ford.