New Gift Idea: Car of the Month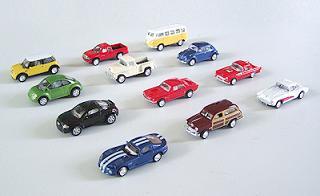 If you can send a different jar of jelly, box of fruit, or six-pack of beer to a friend or relative each month for a year, why not a car?
Automotive journalist Bob Kocher formed the Toy Car Club to do just that. Of course, your driveway and garage would bulge if a new Impala, Camry or Fusion arrived each month, so Kocher came up with an idea to send a scale model, die-cast collectible car each month.
Toy Car Club will mail a new die-cast car each month for 12 months, along with a collector card featuring a photo and historical explanation of each vehicle, to a child, grandchild, friend or collector. Cost: $34.99 for all 12 cars, which includes shipping and handling.
Toy Car Club's initial collector set is called the Classic Car Group and includes a 1957 Chevrolet Corvette, 1964 Ford Mustang, 1955 Ford Thunderbird, 1949 Ford Woody Wagon, 1962 Volkswagen Bus and 1967 Volkswagen Classic Beetle.