What Cars Are iPhone Friendly?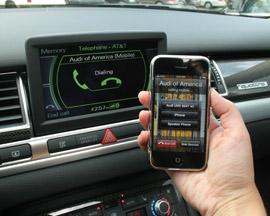 With the new iPhone hitting stores tomorrow, it seems like a good idea to check in with major car brands to find out which have integrated the iPhone into their vehicles. Can they play music with a USB cable? How about Bluetooth compatibility? We contacted representatives from many companies to find out just how well their cars can incorporate the iPhone.
Acura: The 2009 Acura TSX has a USB port in the center console that allows an iPhone to be connected and operated through the vehicle's audio unit with full information about the artist and song. For all other current Acura models, you'll have to buy an adapter cable to connect to an auxiliary jack, but that mechanism doesn't display data on the car's interface. We'd assume the upcoming RL and TL redesigns will have similar functions as the new TSX.
Audi: With one of the most comprehensive and integrated systems for the iPhone, Audi is up there with Mercedes as a top wish-list car for iPhone aficionados. Both the music and phone functions are available across the line with a full integration package that's available with optional navigation packages. This will bump you into a pricier trim level, though. It's the difference, for instance, between the Q7 Quattro and Q7 Premium Quattro, which is a price difference of just under $6,000. Despite the cost, Audi Music Interface (pictured) is among the crème de la crème of iPhone car compatibility.
BMW: The iPhone has been compatible with BMW vehicles since it was first released, for both phone and music functions. BMW also "proactively" tests each successive generation of iPhone to make sure it remains compatible with BMW interfaces. Compatibility is considered an accessory that comes at an additional cost, though.
Chrysler: This automaker has perhaps one of the most convoluted answers to the iPhone question: On certain trim levels of certain models, both the music and phone will be available through Uconnect, which works with a USB cable and has Bluetooth. It's available on models like the Chrysler 300, Aspen, Sebring and Town & Country; Dodge Avenger, Caliber, Challenger, Charger, Grand Caravan, Journey, Nitro and Ram 1500; Jeep Commander, Compass, Grand Cherokee, Liberty and Patriot. However, in the PT Cruiser and Dodge Dakota, just the Bluetooth phone function will work.
Ford: iPhone is completely compatible with the Sync system. The phone utilizes Bluetooth and plays music through a USB cable. Ford is also testing to see if Sync can utilize other iPhone functions, like streaming audio and text messaging.
GM: The 2008 Cadillac CTS was the first GM vehicle to offer iPhone compatibility via a USB port. The technology will carry over for the 2009 model, but plans to offer this feature in other models remain on the back burner. A few other GM models added dealer-installed iPod connectors in 2007, including the Chevy HHR, Chevy Cobalt, Pontiac G5, Pontiac Solstice and Saturn Sky. They might work with the iPhone's music player, but check before you buy.
Honda: The only Honda model that already has USB connectivity is the new 2009 Pilot, and then only in certain trims. The '09 Fit will gain a USB input in certain trims, with more models to follow in the future. Bluetooth is available on certain trim levels for many models.
Hyundai: 2009 models on sale now, including the Sonata and Genesis, have USB connections standard. Presumably the cars are both compatible with the iPhone's music capabilities and Bluetooth with the phone function.
Lexus: Like its parent company Toyota, Lexus does not have USB compatibility on any of its models and there are no plans to add it for '09. All of its models, however, have Bluetooth available, which means they could connect to an iPhone. Some Lexus models still have a cassette deck. Seriously.
Mazda: Although the phone function is compatible via Bluetooth, there's no way to get to the music files on an iPhone — not even with the wired iPod connector accessory Mazda offers. The company is, however, "looking to expand its connection abilities in the future."
Mercedes-Benz: As we reported earlier, Mercedes is introducing a new piece of tech for its '09 models that will incorporate the iPhone directly into a cradle in the center console, supporting both music and Bluetooth capabilities. Drivers of previous-year vehicles can buy an integration kit separately.
Scion: The Scion xB, xD, and new 2009 tC come with an iPod connector standard, with complete integration in the stereo head unit and steering-wheel controls. Certain trim levels are Bluetooth-compatible, as well.
Subaru: The 2008 Impreza and 2009 Forester 2.5X have an iPod interface accessory cable that's compatible with iPhones, although the text display only accommodates song information. You do need optional Bluetooth capability to make a call.
Toyota: The iPhone cannot be connected via USB, so music is out. On Toyota vehicles with the proper navigation system, you can connect to the phone function via Bluetooth. These include the 4Runner, Highlander, Highlander Hybrid, Land Cruiser, Sequoia, Sienna, Tundra, Avalon, Camry, Camry Hybrid, Prius and Camry Solara. You can also connect the phone function if you get a specific audio unit on the RAV4, Corolla or Matrix.
Volkswagen: Currently, the company has no USB integration for the iPhone, although it is planning on integrating a USB connection with its new touch-screen navigation system, RNS 510, which will allow control of the music. As in all other cases, the phone is compatible with Bluetooth.
So there you have it: Automakers have caught iPhone-mania worse than the general public. Now all you need to do before making an iPhone-based car-buying decision — and sure, ask about fuel efficiency, safety and reliability if you absolutely must — is fork over $200 for the actual iPhone.