Auto Affordability at 28-Year High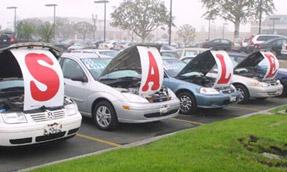 Well, at least not all current economic news is the stuff of nightmares.
Economists at Comerica Bank have found that cars are more affordable now than they have been in 28 years. So the last time a car buyer's purchase made up this small a chunk of his or her overall income, gas prices were sky high and late-night comedians favored jokes about how old a presidential candidate was.
According to Comerica, the average price for a light vehicle right now is $27,704, and the average amount spent on a car fell $700 this financial quarter, to $23,900. Consumers have been keeping their payments low by stretching out the time they take to pay it off, which has now hit more than 63 months.
The trend has been spurred on by incentives, which keep getting better as dealers try to move inventory (they look especially good if you're shopping for a truck or SUV), but overall, consumers have simply begun to opt for less-expensive models.