First Drive: 2009 Dodge Challenger SE, RT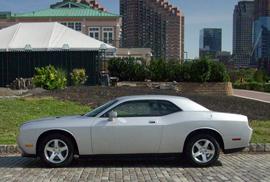 Fun as the tire-pulverizing Challenger SRT8 is, Dodge cannot survive on 425-hp cars alone. (Or trucks, apparently.) For 2009, the automaker expanded its Challenger lineup to include a full crop of trim levels and drivetrains, and not a moment too soon: Ford has an upgraded Mustang in the works for 2010, and, um, we hear there's this new car from GM...
Dodge held a press preview of the '09 Challenger in New York early this month, where we drove the full range — SE, R/T and SRT8 — along with a couple '08 Mustangs to compare. As you might expect of a car built off Chrysler's 300/Charger LX platform, the Challenger is big, but balanced. Refinement can be a double-edged sword: Though the R/T feels quicker than a Mustang GT — and all trims remain unfazed when the road gets rough — the Challenger lacks the Mustang's brash, hang-the-tail-out demeanor. This design might have more staying power, though: It garners more attention than the current 'Stang did in late 2004. Provided Dodge doesn't flood Hertz with V-6 models, it could draw stares for some time.
Stay tuned for a full review. Below is our two-minute rundown for each trim; prices exclude a $675 destination charge. There's also a full photo gallery.
Challenger SE — $21,320, 18/25 mpg: I've never been a fan of Chrysler's 3.5-liter V-6. It delivers so-so power, especially hooked to a four-speed auto with longish first and second gears, and by the upper revs it sounds overtaxed. A combination of 65-series tires and cushy suspension tuning give the car an equally sedate drive, and alas, there is no manual transmission. I drove an SE back-to-back with a Mustang V-6 automatic — which, incidentally, is a much smaller car. Though down by 40 horses, the lighter Mustang's short early gears (it's a five-speed auto) and torquey 4.0-liter engine deliver a huskier exhaust note and quicker off-the-line power. Its suspension seems a better accomplice for hanging the tail on an empty corner. It's just more fun to drive. The Challenger comes out ahead in total refinement: The highway ride remains hushed, the brakes are solid and the rear axle stays put, while the Mustang's chatters like Fran Drescher. The value equation isn't bad, either: 17-inch alloys, nicely contoured bucket seats with power adjustments for the driver, a telescoping steering wheel and six airbags are standard. We wish antilock brakes and stability control were, too, but at least Dodge includes them in the most basic option package.
Challenger R/T — $29,320, 16/25 mpg (auto or manual): This one's my favorite. Lower-series tires and stiffer suspension tuning strike a sweet spot: The R/T tracks curves significantly better than the SE, yet it remains easy on the spine for regular cruising. Did we mention the 5.7-liter Hemi? It delivers a wallop at any speed; I also drove a manual Mustang GT, and while it didn't feel much slower, its power requires winding out the tach a bit more. The Challenger's six-speed manual, a first with this engine, has a chunky, substantive feel. The clutch is heavy but smooth — the Mustang GT's has snappier, rougher engagement — and the positions feel well-defined. I'm not crazy about how close the gates are; on fifth-to-fourth, I accidentally put it into second a few times. (Yeah, go ahead and make fun of me.) I logged a few dozen miles in a five-speed-automatic R/T, and it manages crisp shifts where the SE's four-speed hesitates. The manual function sticks to its gear, too. In the non-SRT Charger, manual mode will override you with a downshift when it thinks it knows better. Nice to see Dodge fixed that.
Challenger SRT8 — $39,320, 13/19 mpg (auto), 14/22 mpg (manual): With the R/T's next-gen Hemi, there really isn't as much reason to get an SRT8. Its 6.1-liter engine no longer feels remarkably quicker, so unless you're taking your car to the track, there's little reason to get it. Track drivers, take note: We took R/Ts and SRTs to New Jersey's Englishtown Raceway Park, and the SRT exhibits much more neutral handling – quicker steering, better grip and none of the R/T's mid-corner understeer. The manual shifter feels no different from the R/T's, and, expectedly, the suspension beats you up on the highway. The SRT's six-speaker Boston Acoustics stereo sounds much better than the R/T's weak-sauce four-speaker system, but, fortunately, upgraded audio is optional on lesser Challengers. Now if they just found a way to get the SRT seats in those…
Stay tuned for that full review later this week.