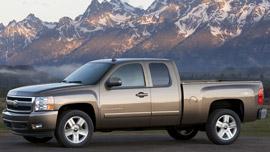 Yesterday, we hoped to figure out just how much GM's Employee Pricing Sale could save customers, and short of invading dealerships or interrogating GM employees ("Hey, how much is your discount? Answer us!"), we've found the answers — on GM's site.
Chevrolet unsurprisingly has concentrated most of its employee savings on its trucks and SUVs. At the employee-discounted price plus incentives, the Silverado is available for $19,948, which is $8,000 below MSRP. The Avalanche (almost $9,000 less than MSRP) and Suburban (more than $9,000 less than MSRP) are also available with hefty bargains.
If you're a sports car enthusiast, you're not left out. The Corvette is included in the sale, and we found more than $6,000 in Cash back on the standard 'Vette. We're devoting an entirely separate post to the ridiculous price of a 2008 Corvette Z06.
A substantial list of Chevy's employee-priced vehicles is below, with expected cost after discounts and incentives. Check Chevrolet's site for a full list of deals or GM's site for differing trim levels, other models and to double-check which deals apply in your area.
2009 Chevrolet Cobalt LT coupe
MSRP: $16,370
Employee price: $15,185
Final price: $15,185
Savings: $1,185

2009 Chevrolet HHR LT
MSRP: $19,590.00
Employee price: $18,131
Final price: $18,131
Savings: $1,459
2008 Chevrolet Aveo SVM hatchback
MSRP: $10,895
Employee price: $10,175
Final price: $10,175
Savings: $720
2008 Chevrolet Silverado 1500 4WD LS Crew Cab
MSRP: $32,330
Employee price: $28,868
Cash back: $5,000
Final price: $23,868
Savings: $8,462
2008 Chevrolet Malibu LT sedan
MSRP: $21,835
Employee price: $20,184
Cash back: $1,000
Final price: $19,184
Savings: $2,651
2008 Chevrolet HHR LS
MSRP: $17,370
Employee price: $16,098
Cash back: $1,000
Final price: $15,098
Savings: $2,272
2008 Chevrolet TrailBlazer 2WD LT
MSRP: $28,490
Employee price: $26,004
Cash back: $6,000
Final price: $20,004
Savings: $8,486
2008 Chevrolet Corvette coupe:
MSRP: $46,950
Employee price: $40,877
Final price: $40,877
Savings: $6,073
2008 Chevrolet Impala LT 3.5L
MSRP: $23,425
Employee price: $21,648
Cash back: $1,750
Final price: $19,898
Savings: $3,527
2008 Chevrolet Colorado 1500 Extended Cab 2WD LS
MSRP: $18,375
Employee price: $17,021
Cash back: $1,500
Final price: $15,521
Savings: $2,854
2008 Chevrolet Avalanche 2WD LS
MSRP: $34,335
Employee price: $30,640
Cash back: $5,000
Final price: $25,640
Savings: $8,695
2008 Chevrolet Equinox FWD LS
MSRP: $23,650
Employee price: $21,612
Cash back: $1,000
Final price: $20,612
Savings: $3,038
2008 Chevrolet Tahoe 2WD LT
MSRP: $37,610
Employee price: $33,538
Cash back: $5,000
Final price: $28,538
Savings: $9,072
2008 Chevrolet Suburban 1500 2WD LS
MSRP: $38,985
Employee price: $34,755
Cash back: $5,000
Final price: $29,755
Savings: $9,230