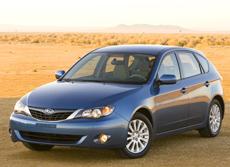 Our review of model-year-end deals continues with Subaru. The company has made some changes to the Impreza lineup for 2009, which you can read about here, but that might not stop you from picking up a 2008 model. The 2009 Forester is all-new as well, and you can check out coverage — including video and reviews — here. Deals as found on Subaru's zip-code-based incentives site are listed below and are good through Sept. 2.
2008 Impreza: 0.0% financing
2008 Outback: $1,500 cash back
2008 Tribeca: $2,500 cash back (in limited regions)
2008 Forester: $740-$2,000 cash back plus 0.0% financing
2008 Legacy: $1,000 plus 0.0% financing
Again, the deals are based on zip codes, so check your area for specific deals.