ForTwo Sales Make for Lengthy Wait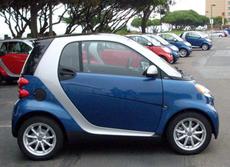 Cars.com didn't exactly give the Smart ForTwo rave reviews, but what do we know?
The market has spoken, and in these days of the fuel crunch, the ForTwo is selling like hotcakes to a hungry lumberjack. Smart USA has sold more than 14,000 units so far. Back in January, Smart had a list of potential buyers with 30,000 names on it. Now, ForTwo buyers must add themselves to a waiting list that's nearly a year long.
A search of Cars.com's inventory revealed only one Smart dealer in my area, and upon calling the Knauz Auto Park in Lake Bluff, Ill., I was told that, indeed, once I put in a reservation on Smart's website for $99, my wait could be "15 months and up."
Starting at under $12k and getting 41 mpg on the highway, it's not hard to see what's boosting demand for the ForTwo.
"I'd be lying if I said we didn't have people coming into dealers because of high gas prices," said Ken Kettenbeil, director of communications for Smart USA. "But we've had that list for a while now, and this year we're basically just delivering cars."
Kettenbeil went on to point out that in addition to solid fuel economy and a low starting price, the ForTwo has a distinct look.
"There's nothing else like it on the road, and that distinction gives it an edge," he said.
If you truly are dying to get into a ForTwo and don't want to wait 15 months, Kettenbeil says dealers keep a second backup list for canceled reservations.
Smart Cars Have a Year-Long US Waiting List? (Huffington Post)