Four Small SUVs Get IIHS Top Safety Pick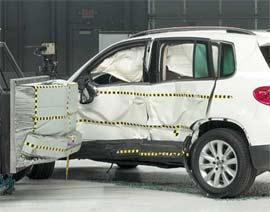 The Insurance Institute for Highway Safety released its latest round of crash tests, and this time the safety group took on the small SUV segment, one of the most popular in the market.

Four out of the eight small SUVs tested earned the IIHS's Top Safety Pick status, meaning they received top scores in front, side and rear crash tests. All eight SUVs came with stability control standard. Who were the winners? Keep reading for more, along with the IIHS' chart of how all eight did.

The 2009 VW Tiguan, 2008 Mitsubishi Outlander, 2008 Nissan Rogue and the 2009 Ford Escape (along with the Mazda Tribute and Mercury Mariner siblings) are now IIHS' Top Safety Picks. Also tested were the 2008 Suzuki Grand Vitara, 2008 Jeep Patriot (tested with and without optional front torso side airbags), 2008 Chevy Equinox and its Pontiac Torrent sibling, and the Jeep Wrangler, which unsurprisingly scored the worst out of the group. None of these SUVs earned more than one Good score in the crash tests.

We recently reviewed the all-new VW Tiguan, which earned raves from senior editor Joe Wiesenfelder. The Mitsubishi Outlander has been a value pick for some time and recently received high dependability scores as well. The 2009 Escape family, including the hybrid model, is on sale now and features an upgraded four-cylinder engine and six-speed transmission you can read about here. It's also the only SUV mentioned that's a Cars.com Best Bet.

As for the losers, none of them would be on the top of our shopping lists, and none earned Best Bet status either. These scores certainly won't help. But overall, the four winners make a convincing argument for shoppers. Popular models like the Honda CR-V and the Toyota RAV4 have been tested previously. They earned top scores in side and frontal crash tests, but didn't receive rear crash tests to earn the Top Safety Pick. We're unsure why the IIHS didn't include them as well.