Hybrid Hyundai Sonata Headed to U.S.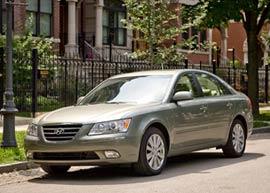 Today, Hyundai announced it will sell a hybrid version of its popular Sonata sedan in the U.S., using a lithium ion battery to store electricity in the hybrid. The company did not announce a release date, but the new hybrid will debut at the Los Angeles auto show this November, so we'd guess it will go on sale in calendar year 2009.
The current four-cylinder version of the Sonata — which was redesigned for the 2009 model year — gets a very healthy 22/32 mpg city/highway. We've yet to see a lithium ion battery-powered hybrid on sale, though companies like Audi and GM have plans for products that use them.
Hyundai Announces Hybrid Sedan (Technoride)
2009 Hyundai Sonata Expert Review (Cars.com)