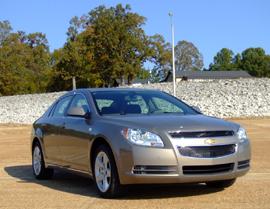 July's Movers and Losers are in. This month we've added more data to the lists to answer concerns from readers that we weren't presenting an accurate portrayal of which cars are movers and which are losers.
We had originally hoped that our own data of how many days it takes to sell a specific model would tell the whole story of these clever designations, but no, readers demanded more. So here it is. We've added each car's percentage sales increase or decrease from the same month last year (unless it's a new model), and the total number of units sold in July 2008.
Be warned: The unit numbers are deceiving. A number that may represent a horrendous month of sales for a midsize sedan might still dwarf a successful month of sales for a large luxury SUV.
In most cases, we think these added numbers prove we were correct to not include them at first, as all but two of our overall top movers and losers panned out accurately. Those were the Suzuki XL7 and Mitsubishi Endeavor, which took 165 and 176 days to sell, respectively, yet saw sales increase in July 2008 compared to last year. This is probably due to heavy incentives moving 5-month-old models off lots in July.
Sales losses by the 2008 Toyota Prius and 2009 Toyota Camry Hybrid were due to decreased supply thanks to rabid demand.
Are you better off for the explanations? Is the extra effort worth it? Check out the lists below and let us know in the comments.
Movers
We list how many days they spend on the lot, provided by Cars.com, and how sales measure up compared to July 2007 plus total units sold in July 2008, provided by manufacturers.
2008 Toyota Prius: 5 days / -15% / 14,785 units
2009 Lincoln MKS: 7 days / no 2007 sales data / 2,279 units
2008 Honda Civic Hybrid: 8 days / +27.4% / 3,440 units
2009 Chevy Malibu: 8 days / +78.6% / 16,637 units
2009 Nissan Versa hatchback: 8 days / +14.4% / 8,701 units (entire Versa line)
2008 Dodge Challenger: 9 days / no 2007 sales data / 2,895 units
2008 Lexus LX 570: 9 days +277% / 843 units
2009 Nissan Maxima: 9 days / +6.9% / 4,814 units
2009 Toyota Camry Hybrid: 9 days / -39% / 2,645 units
2008 Mini Cooper Clubman: 10 days* / no 2007 sales data / 1,214 units (entire Cooper line)
*Also at 10 days: 2009 Hyundai Genesis and 2009 Scion xB.
Losers
2008 Dodge Durango: 177 days / -84% / 384 units
2008 Mitsubishi Endeavor: 176 days / +22.6% / 764 units
2008 Hummer H3: 175 days / -64.9% / 1,422 units
2008 Nissan Titan: 170 days / -30.4% / 3,972 units
2008 Suzuki XL7: 165 days / +5% / 1,812 units
2008 BMW M5: 165 days / no specific trim sales data
2008 Chrysler Sebring convertible: 163 days / -31% / 3,816 units (entire Sebring line)
2008 Honda Ridgeline: 150 days / -47.1% / 2,662 units
2008 Kia Sedona: 149 days / -35% / 2,004 units
2008 Dodge Dakota: 141 days / -24% / 2,593 units