Penny-Pinchers Not Flocking to Stripped Models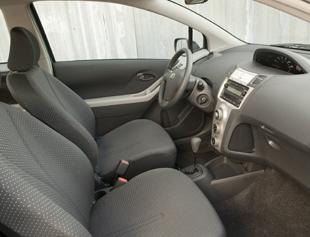 Skipping amenities such as an automatic transmission, air conditioning, and power windows and locks — features that can inflate the price of a small car more than $2,000 — can make a new vehicle more affordable.
Finding a stripped car with a manual transmission and crank windows, though, is becoming more of a challenge.
Automatic transmissions were standard on 89% of the vehicles sold in the U.S. last year, up from 85% in 2003, according to JATO Dynamics, an Auburn Hills, Mich., firm that compiles such statistics. Power locks were standard on 87%, compared to 80% in 2003.
Small cars are among the vehicles where such features still tend to be optional, but even when given a choice economy-car buyers often pick comfort and convenience over cost.
Toyota's cheapest model is the Yaris, which starts at $11,550 for a base 2008 hatchback with standard air conditioning. About 80% of Yaris buyers plunk down $900 more for an automatic, and 60% buy power windows and locks, part of a $1,680 option package.
The 2008 Hyundai Accent starts at an enticing $10,970 for a base GS hatchback, but that means a stick shift, manual windows and locks, and no A/C or stereo.
Hyundai says only 4% of Accents sell that way, and 96% of buyers opt for air conditioning (available in a $1,570 package that also includes a stereo), 78% choose to add the automatic ($1,000) and 42% go for power windows and locks (packaged with A/C, a stereo and other options for $1,970).
Mark Dipko, Accent product planning manager, said automatic transmissions, air conditioning and radios are "necessities that most people don't want to do without," but that low-priced cars such as the Accent attract those who "are counting every penny."
"There's just not that many of them," he said.
The high rate of opting for automatic transmissions in these cars may also be due to the fact that many of today's advanced automatics return similar or even better mileage compared with manual transmissions. Just a few years ago, that was rarely the case.
Apparently, Hyundai has seen enough penny-pinching shoppers to add a base Accent four-door for 2009 that won't have standard air conditioning or a radio, to see if cost-conscious sedan buyers will go for another basic model.