Alternative Fuel Pumps Mandatory by 2018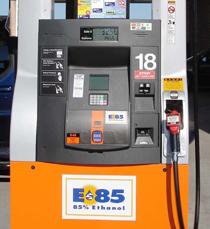 Yeah, we're still digging through House Resolution 6899 — the Comprehensive American Energy Security and Consumer Protection Act — and guess what we found? While the second section of the bill deals with new offshore drilling, 70 or so sections later, under "Miscellaneous Provisions," is a requirement that every gas station owned by a major gas company — Shell, BP, etc — add at least one alternative fuel pump by 2018.
"Alternative fuel pump" means any pump that holds natural gas; E85 or a higher concentration of ethanol; biodiesel or renewable diesel; or hydrogen.
If these companies don't retrofit by 2018, they'll be fined $100,000 per station. In another section of the bill, there's a $50,000 tax credit for every station that adds an E85 pump. That credit is good until 2017. So if the companies add E85 it will cost them roughly $50,000 less than any other alternative fuel.
If you're wondering, there is no provision in the bill to aid automakers with new technology. However, local governments and coal and other energy producers will get billions in loans, similar to what the automakers are looking for, to aid them in going green.
The bill passed the House of Representatives yesterday by an overwhelming majority and now goes to the Senate, where a decision will be reached over the next few weeks.