Ch-Ch-Changes: 2009 Toyota RAV4's New Engine, Face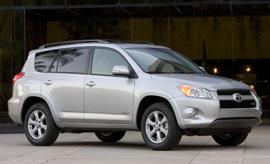 The most important upgrade to the 2009 RAV4 is its new 2.5-liter four-cylinder engine, which increases power to 179 hp, versus the 2008's 166 hp. Mileage remains unchanged at 22/28 mpg city/highway for the two-wheel-drive RAV4 and 21/27 mpg for the four-wheel-drive version. The 3.5-liter V-6 also remains unchanged.
Toyota also made some tweaks to the exterior. The front of the RAV4 gets a more angular look that better resembles recently redesigned models like the Tundra and Matrix. The rear gets new taillights and a minor change to the bumper.
Other upgrades are standard active front head restraints, new colors and new interior fabrics.
These aren't drastic changes, but they should maintain the RAV4's status as one of the most popular compact SUVs on the market. The 2009 is on sale now, and base prices remain unchanged from 2008. Sport and Limited models see slight price bumps for 2009. Check out our new-car configurator here to check prices, build a new 2009 and find inventory in your area.
More photos below.