First Details on Honda's New Insight Hybrid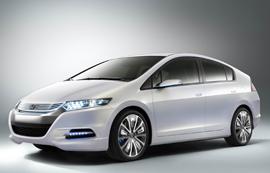 Sometimes rumors turn out to be true. No, Bristol Palin isn't carrying John Edwards' alien love child. The other rumor. Honda just released some details on its next hybrid, a model built from the ground up that will bring back the Insight name in spring 2009. Unlike the original Insight, which was the first hybrid sold in the U.S., this one will have five seats rather than two and will compete with the Toyota Prius — and sell "at a price significantly below hybrid vehicles available today," according to Honda. A concept version of the car will debut Oct. 2 at the Paris International Auto Show and is shown at right and in an additional image below.

The concept is a four-door hatchback with styling that's a little FCX Clarity plus Civic, with a silhouette that's similar to the Prius, as all ultra-aerodynamic cars now seem to be. Traditionally, Honda concepts usually turn out to look nearly identical to production models. Like the Prius, the Insight has a folding backseat — something no Honda hybrid to date has had.

Honda hasn't released any gas mileage figures or claims, so we wonder if it will make any inroads in that area. No Honda hybrid since the original Insight has competed with its Toyota counterparts in terms of fuel economy. On the other hand, Honda says it has reduced the cost of its hybrid system, called Integrated Motor Assist, which bodes well for its upcoming hybrids as well as this one. There are no further details on the sporty two-seater based on the CR-Z concept that's been on the auto-show circuit since 2007, which has been green-lighted for production sometime after the Insight.

Honda will import half of the Insight's planned 200,000 yearly build to North America.