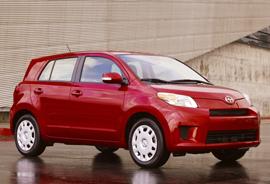 We're back to a simpler format, just listing new cars and how many days it takes them to sell, from the day they reach the lot to the day they drive home with a happy new owner. Remember, folks, this is just a snapshot of the industry, not the be-all, end-all of which cars are best-sellers. Although we do that, too.
Anyway, a reminder on our process: The top 10 movers have to hit a certain number of sales to make the list, while the losers do not. The losers also don't include 2008 models that are already competing with their 2009 versions.
August's winners are interesting, with the new Dodge Challenger muscle car doing well now that it has a full lineup of cars available, not just the high-performance SRT8 trim. Otherwise, folks are looking for efficiency … still. And Audi's sexy A5.
Movers
2009 Scion xD: 3 days
2008 Toyota Prius: 6 days
2009 Dodge Challenger: 6 days
2009 Nissan Altima: 6 days
2008 Toyota Yaris: 7 days
2009 Toyota Camry Hybrid: 7 days
2008 Mini Cooper: 8 days
2009 Audi A5: 8 days
2009 Ford Focus: 8 days
2009 Honda Accord coupe and sedan: 9 days
Again, the losers list looks like an SUV and high-performance-car parking lot, with the Audi TT convertible thrown in. Not sure why people aren't buying the new TT; the 2009s are just reaching dealers. Perhaps it's a good time to get a 2008.
Losers
2008 Hummer H3: 221 days
2008 Dodge Durango: 218 days
2008 BMW M5: 185 days
2008 Volkswagen R32: 174 days
2008 Suzuki XL7: 174 days
2008 Dodge Nitro: 172 days
2008 Kia Amanti: 156 days
2008 Ford F-350: 156 days
2008 Chevy Colorado: 149 days
2008 Audi TT convertible: 148 days